If we were to describe 2020 in a word, "ideal" would not likely top the list. But connecting with nature and loved ones at a safe distance can indeed feel like a little slice of heaven.
In Hawaii, where the environment is conducive to healthy living and socially distanced outdoor adventures, paradise is still possible.
---
With the launch of the Safe Travels Hawaii program, the state reopened to travelers from the mainland U.S. (beginning October 15, 2020) and Japan (beginning November 6, 2020). To bypass the 14-day quarantine, visitors and returning residents are required to show proof of a negative Covid-19 test. The test must be administered through one of the program partners within 72 hours before departure of the final leg of the flight to Hawaii.
While you're in the Aloha State, you are expected to kokua (help) protect yourself as well as those who live here: wear a mask, don't gather in groups larger than five people, wash your hands frequently, maintain at least a six-foot distance from others, and abide by local mandates. Fortunately, many things about island life make it easy to comply. Here are eight ways Hawaii is ideal for healthy living and social distancing.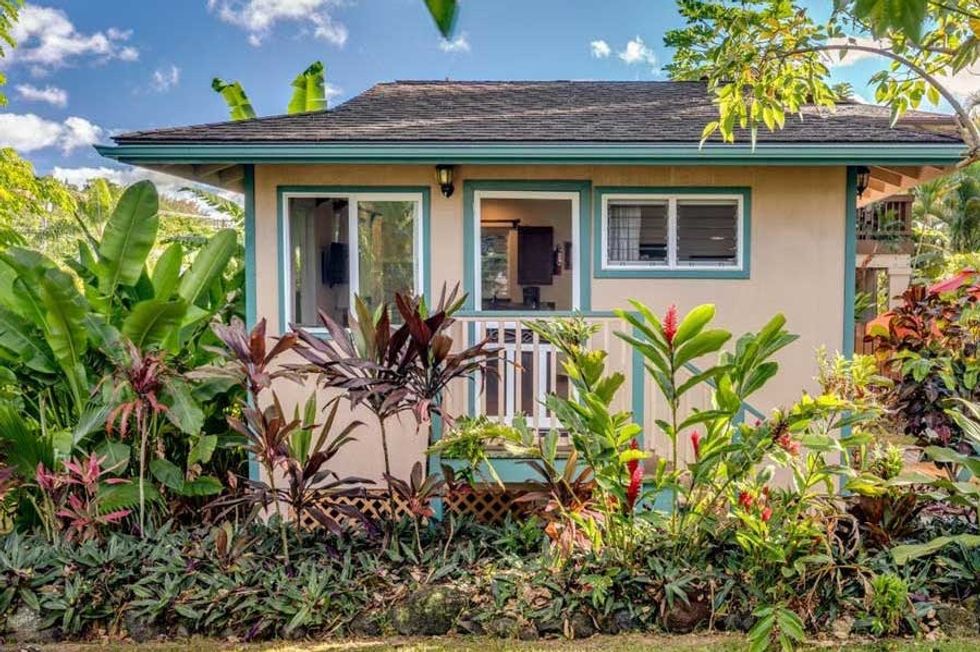 On O`ahu's North Shore, Ke Iki Beach Bungalows has studio, one- and two-bedroom stays with private entrances ideal for social distancing.(Courtesy of Ke Iki Beach Bungalows)
Nature at Your Doorstep
When you're in Hawaii, you're never too far from a mountain trail, postcard-perfect beach, tropical forest, or palm tree skyline. Even in the cities, you'll find plenty of parks; the state's capital and largest city, Honolulu, ranked first (out of 100 large U.S. cities) for its percentage of green spaces.
Hawaii offers ample opportunities for socially distanced outdoor activities such as hiking and surfing, and research has shown that simply spending time in nature can also positively impact your mental and physical health—increasing serotonin, lowering your heart rate, reducing anxiety, and boosting your mood and immune system.
Trek the Kuilau Ridge Trail on Kauai for all the incredible emerald-hued views and Jurassic Park-esque experience (complete with muddy terrain, so be sure to wear suitable hiking boots) Kauai is known for. Or, if moonwalking is more your style, head for the Big Island and take the Kilauea Iki Trail down through the rainforest onto the lunar-like lava rock floor where you may find vents steaming and wildflowers blooming.
Searching for a place with nature literally at your doorstep? Try a beachfront room at Honolulu's Kahala Resort or standalone-style accommodations such as Ke Iki Beach Bungalows on Oahu's North Shore where you can practically roll out of bed and onto the sand. (Bonus: Individual bungalows mean no shared lobby or elevators and no contact with other guests.)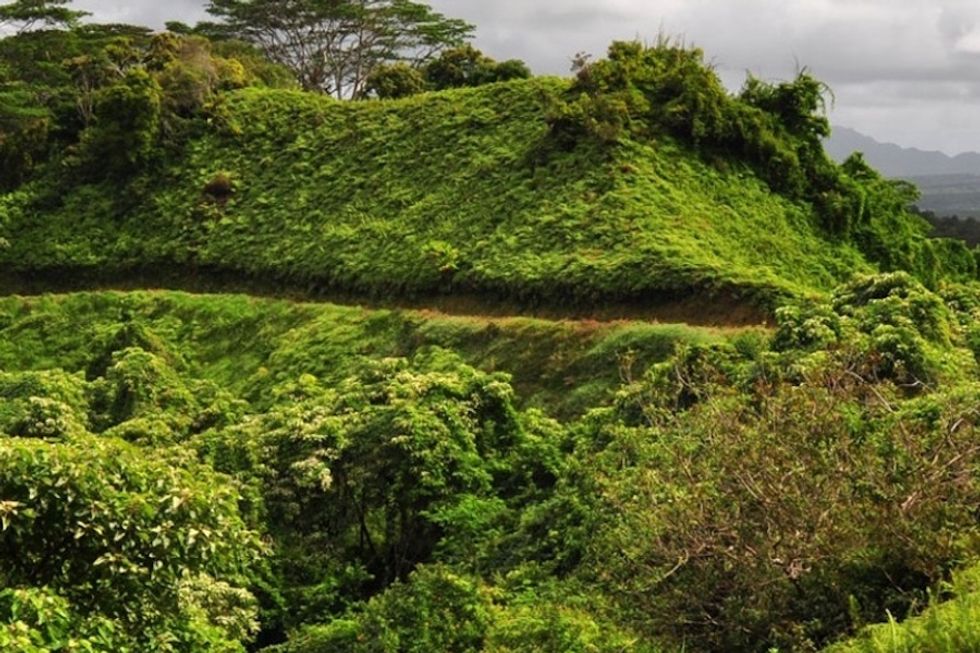 The Kuilau Ridge Trail has all the verdant lushness and seclusion you could want in a hike on Kauai. Watch out—it's muddy! (Courtesy of hawaii-guide.com)
A Breath of Fresh Air
Air quality affects lung health, and air pollution has been linked to higher Covid-19 death rates. In Hawaii, you can breathe easy; we have some of the cleanest air in the country. A day at the beach might benefit your mental health, too. In addition to the calming sound of the waves, some studies have shown that negative ions in the ocean air may improve your mood.
For an extra mood booster, add in possible sea turtle sightings at a quiet beach like Papailoa on O`ahu or a secluded gem like Polihua Beach on Lanai.
A Daily Dose of Vitamin D
A sunshiney day keeps the doctor away. Well, we're not doctors so we can't say that for sure. But what we do know is that vitamin D helps reduce inflammation and regulate immune function. And recent studies show that vitamin D deficiency may increase the severity of Covid-19.
The body produces vitamin D when exposed to sunlight. And if you're in Hawaii, you have a pretty solid chance of catching some rays. Honolulu receives about 270 days of sun per year; Lihue, Kauai gets around 240; and even Hilo, Big Island, one of the rainiest cities in the world, still receives about 170 days of sunshine each year.
The sun in Hawaii can be intense, so be mindful of exposure and don't forget an eco-friendly sunscreen such as mineral-based Raw Elements, which is available for purchase on some Hawaiian Airlines flights, in many local shops such as ABC Stores, Long's, and Quicksilver, and also for free from dispensers at the Waikiki Aquarium and to guests of the Surfjack Hotel & Swim Club.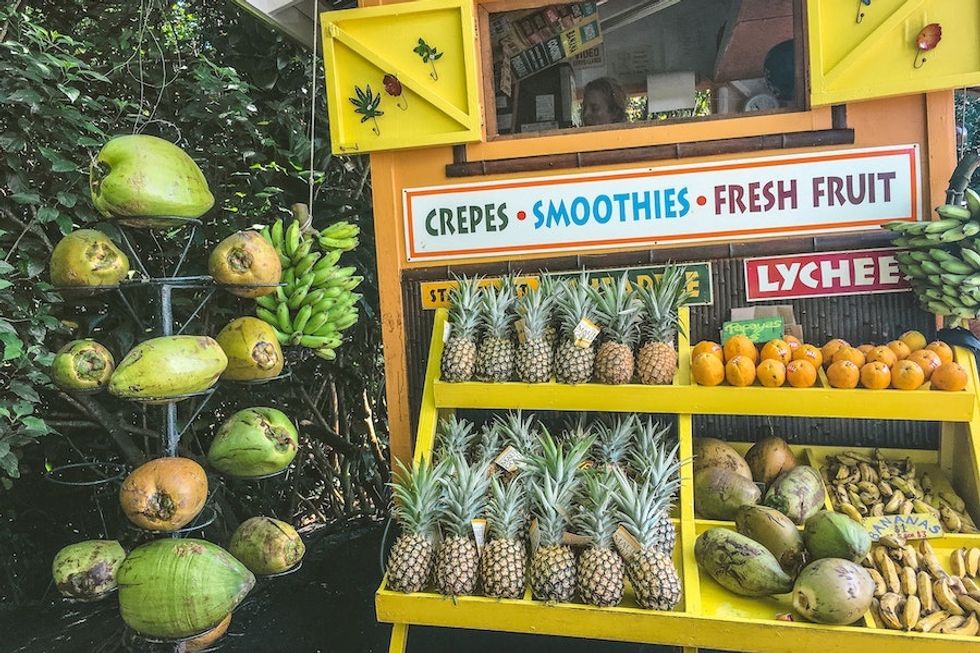 (Photo by Hristina Šatalova on Unsplash)
Fresh Fruits and Superfoods
All that sun and rain also create good conditions for growing tropical fruits and vegetables, many of which have nutritional and medicinal properties. Pick up some papaya (rich in anti-inflammatory antioxidants as well as nutrients such as calcium, potassium, and even beta-carotene that may benefit those with asthma) or soursop, loaded with vitamin C, at a local farmers' market. You'll find farmers' markets around the islands including Makuu Market in Pahoa, Big Island; Upcountry Farmers Market in Makawao, Maui; KCC Farmers Market in Honolulu; and Kaua`i Community Market in Puhi, Kauai.
Keep an eye out for superfoods at restaurants, too. Sweet Cane Café in Hilo, Big Island serves up noni shots, cacao bowls, and breadfruit entrees. And Merriman's (locations on Oahu, Maui, Kauai, and Big Island) often incorporates taro into its island-inspired menu. Insider tip: The taro enchiladas are oh so ono (delicious).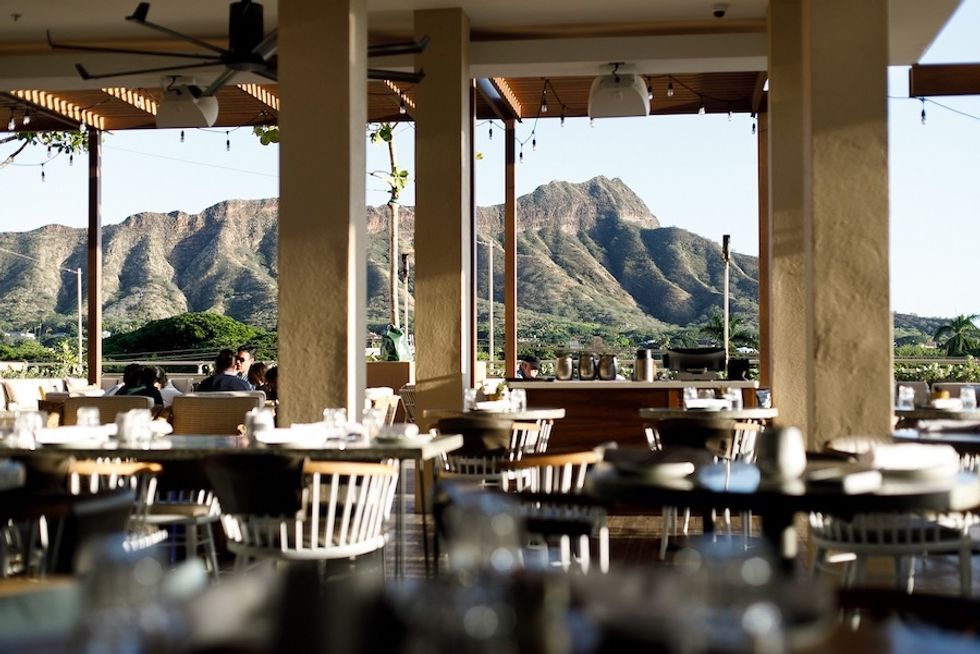 Looking to eat outdoors? No problem. With a view of paradise? Go for drinks and eats made with sustainable and locally sourced ingredients at Deck at the Queen Kapi'olani Hotel.(Courtesy of deckwaikiki.com)
Outdoor Everything
Avoiding indoor interactions helps reduce the risk of Covid-19 spread. Fortunately, the favorable climate in Hawaii means many businesses were already set up to serve outdoors long before the novel coronavirus arrived.
From check-in to nightcap, you can easily spend the majority of your day outside. Enjoy the ocean breeze blowing through open-air hotel lobbies like the one at Andaz Maui. Dine outdoors at beachside restaurants such as iconic Duke's (located in Waikiki, Oahu and Kaanapali, Maui). After a day of sand and surf, stroll through one of our open-air shopping centers—Hawaii is home to several, including Ala Moana Center, the largest open-air mall in the world—and end the night with an island cocktail under the stars at a rooftop bar such as Deck at Queen Kapiolani Hotel.
Mindfulness and Meditative Activities Aplenty
This year has been stressful, to say the least. A recent poll by the American Psychiatry Association revealed that Americans feel 62 percent more anxious than they did at the same time last year. Chronic stress is known to harm our mental and physical health, including our immune response. Here in Hawaii, you can unwind with meditative activities such as sunset yoga or traditional arts including weaving and lei making at Na Mea Hawai'i, and get grounded with mindfulness experiences such as forest bathing—a guided, Japanese-inspired practice that involves invitations to tune into your senses and surroundings—with forest therapy guide Phyllis Look of Forest Bathing Hawaii.
High Standards
Hawaii's response to the pandemic was one of the most aggressive in the country, and while the state has recently reopened to tourism, we still have some of the strictest measures. Leisure travelers cannot enter Hawaii without either showing proof of a negative Covid-19 test or quarantining for 14 days on arrival. The state is still only in Tier 2 of the reopening plan, which limits restaurants, retail, and other businesses to 50 percent capacity and gatherings and tours to five people. A mask order is in effect and enforced by local businesses. It varies slightly by county, but in general, if you are stepping outside your home or hotel, you are expected to wear a mask. Businesses may deny service to anyone refusing to comply and, in some counties such as Maui, citations are issued. Lieutenant Governor Josh Green is pushing for a stricter, statewide mandate that would allow police officers to issue fines for non-compliance in the hope that stronger enforcement can keep locals and visitors safe.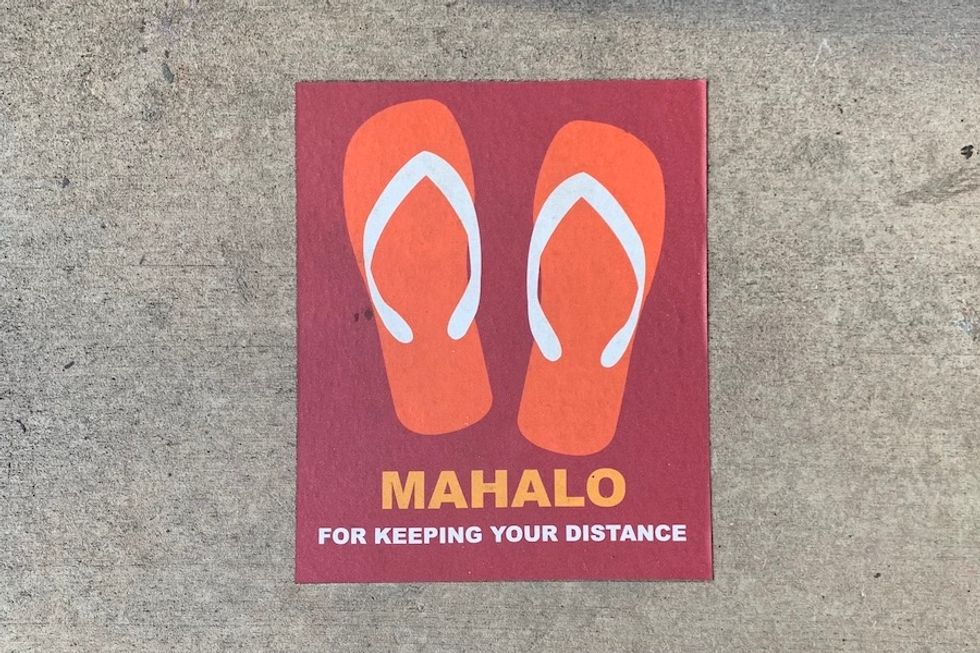 Hawaii has some of the strictest Covid-19 measures in the country and social distancing is widely respected here.(Sunny Fitzgerald)
A Caring Culture
The concept of malama (care for, protect) is deeply rooted in Hawaiian culture and, with it, the acknowledgment that all of us are connected—our actions impact others, for better or worse. In the same way that businesses here are doing everything they can to malama their customers and guests by improving sanitation procedures, reducing capacity, and enforcing mask policies, visitors also have a responsibility to malama Hawaii: show aloha to other travelers and locals and keep each other safe by following pandemic-related guidelines.
We recognize the use of diacritical markings in modern Hawaiian language including the ʻokina [ʻ] and the kahakō [ō] (e.g., in names such as Hawaiʻi and Lānaʻi). While we understand the importance of using these markings to preserve the language and culture of Hawaii, the markings have been omitted in this story to support the best technical experience.
function rm_fn_80d306d46ae1e0ce5c17bb1f12317f59() !function(f,b,e,v,n,t,s) if(f.fbq)return;n=f.fbq=function()n.callMethod? n.callMethod.apply(n,arguments):n.queue.push(arguments); if(!f._fbq)f._fbq=n;n.push=n;n.loaded=!0;n.version='2.0'; n.queue=[];t=b.createElement(e);t.async=!0; t.src=v;s=b.getElementsByTagName(e)[0]; s.parentNode.insertBefore(t,s)(window, document,'script', 'https://connect.facebook.net/en_US/fbevents.js'); fbq('init', '313173625837109'); fbq('track', 'PageView');
window.REBELMOUSE_LOW_TASKS_QUEUE.push(rm_fn_80d306d46ae1e0ce5c17bb1f12317f59);